This demo will show you how to import footage directly from the Canon 5D2 into the Ipad, edit the footage, and export out to your own FTP site uncompressed or various common sites like YouTube, Vimeo, Facebook, etc. All this is possible with the iOS 5 and IMovie update that came out October 12, 2011 that expanded support for video imported from external DSLR cameras. Update: Also, you can transfer video directly from your IPhone 4/5 to the IPad by connecting the Iphone charge cable to the Iphone - the USB end into the camera kit USB adapter - then plug that into your IPad. Follow the below procedure to transfer the file.

Here's what you need:
Ipad2 or Newer - with iOS 5 or later
Canon 5D2 or 5D3 with USB cable
IMovie 1.4.1 (latest) downloaded from the App store - $4.99
Apple Camera Connection Kit for Ipad - $30 (SD & USB adapters)

That's it - not much at all. For what I do it's better than carrying around a laptop plus you have connectivity via WiFi and Cellular if you need to feed the footage out quickly - the latter being most anywhere in the world these days.

To get started connect your Canon 5D2 to the Ipad using the USB cable and the Apple USB adapter. It's only USB (20MB/sec) but heck, maybe the next iPad will have a thunderbolt port and Canon will support it down the road - wouldn't that be great. But for right now USB2 is better than nothing - you just have to wait a little longer to transfer the video/still pics.

Turn the Ipad on and when it boots up turn the Canon 5D2 on. The import screen will come up. Tap the pics and video you want to import -a green check mark will show up on each thumbnail. After all your pics and video have loaded onto the Ipad Photo Library a message will come up asking if you want to keep the photos on the CF card. I always say Yes. The green check will turn to blue letting you know what was transferred.

After the import process is over turn off and disconnect your 5D2. You might want to plug your charge cable in if the battery is low at this point. Open IMovie and the video files should automatically be in the bin. If not, then import them from your photo album.

Tap on the bin to select the files - you can do a quick edit in the bin by moving the end points and the video will play out in the viewer - then tap again to add to the timeline

After you have all your video on the timeline you can fine tune the edit. For some reason canon 5D2 files play just fine on the ipad unlike a lot of computers.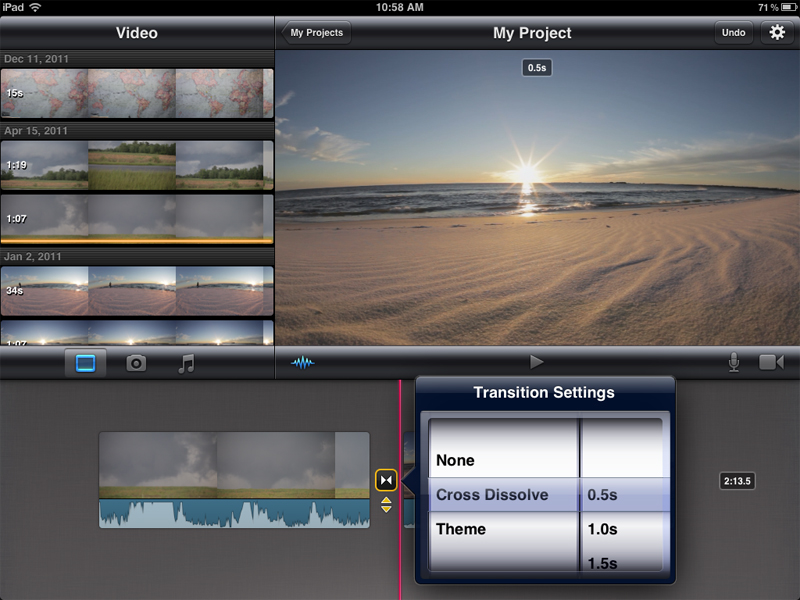 You can delete a clip by double tapping on it and hitting delete. You can fine tune the ends and outs by click on the clip and dragging the end markers. You can cut a clip by moving the red line to the cut point, tapping on the clip and swiping down along the red line. You can hit the >< icon between the clips and a transition setting will come up. It's nothing fancy at this time but for what I do - breaking weather events - it's perfect. You can do the finger pinch to zoom in on a clip or opposite to zoom out. Scrolling is just a finger swipe along the timeline. You can also import still photos, drop them on the timeline and do a moving picture pan. Yeah, that's right import a raw file right onto the timeline and no hiccups! I don't know of any other editor you can do that. There is also the option of importing sound. One you can import directly into by hitting the Mic button which will allow you to import from the apple headset for a simple voice over. Two, you can get a mic that fits in the headset jack, or use a USB mic that works off the USB adapter from the camera kit. I'm still exploring ways to import H4N Zoom wav files off the SD card. I'll figure out a way eventually. But for on the road, quick footage turn around I don't usually add separate audio so this is not a deal-breaker for me. update: The new IMovie 1.3 will let record audio voice over directly into the ipad using your headset jack. There is a mic button on the timeline you tap to enable complete with a VU digital meter to get the sound right.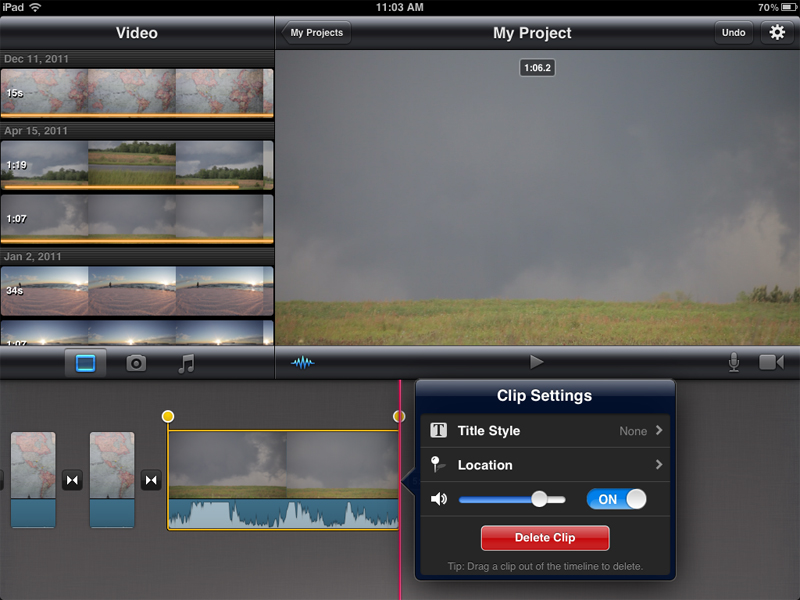 When the edit is all finished you can hit the "My Projects" button and go out and name the edit by tapping "My Projects" under IMovie
Next you can export to either Camera Roll or other popular sites. They both have different options and outcomes. Tap the transfer buttom at the bottom where the options are.
For example, Camera Roll has these options. If your timeline is 1920x1080 30P IMovie will export out with these parameters. I use the HD-1080P option. For a 10 second file I get a 29MB file size at 30fps (not 29.97) and 44.1 kHz (not 48.1 kHz). It's like the old software on the Canon 5D2 - it wasn't true 29.97fps or 48.1kHz until a software upgrade. Maybe that will happen with Ipad IMovie.
The next option you have is export out to Vimeo, YouTube, Facebook, CNNI report . Here I figured out what each export option really gives you since the Apple IMovie techies didn't know. Again, assuming you export a 10 second 1920x1080 30p 5D2 file. You get:
Medium 640 x 360 30fps 44.1kHz 4.4MB
Large 960 x 540 30 fps 44.1kHz 6.52 MB
HD 1280 x 760 30 fps 44.1kHz 13MB
So you decide what your upload speed is and then figure out what quality you want to use. I use a program called "speed test" to check the up and down speeds so I know what I have to work with before I select my export option.
I also use an App called "CameraSync" to FTP my full HD footage or I suppose you could upload it to your cloud too.
Final thoughts: you want to make sure you have enough memory on your Ipad if you bring over a lot of footage so a 32GB or even better 64GB version would be ideal. For what I do - breaking news events, a 16GB version will be plenty. IMovie is the only editing App I know that will let you export out to 1920x1080. The others won't let you at the time of this writing. Also, I know you have heard that the only video allowed on the ipad 2 is 720p. Not true as we've just shown it can import and play back and export 1920x1080 files from a Canon 5D2.
The Apple Ipad SD adapter works great for cameras that use a SD card like my Sony Cybershot. A little trick I figured out is say you had to edit your video on your Macbook Pro. You can save it on your SD camera card but just rename it to something like this MVI_0001.MOV and it will import into your Camera Roll. From there you can FTP the file. If you don't rename it to something that looks like a DSLR video file the Ipad won't see it.
Lastly - if you want to see your edit in all it's glory get the Ipad HDMI video/audio out adapter. Get the Apple one that's all I'm going to say. Hooks right into your big HDTV. My Canon 5D2 footage looks better output this way on my 55 inch Samsung HDTV than using my fancy $7,000 custom editing workstation - which I had to buy if I wanted to edit Canon 5D2 footage - yeah, go figure. If you're a wedding videographer why not bring in your DSLR video - do a quick edit (dissolves are automatically placed between clips), toss in some stock music from your library that's already stored on your Ipad, connect to an HDTV and the wedding begins all over again. Pretty slick - all on a wafer thin Ipad. Think of the possibilities !! Oh yeah, add underwater video to the mix with the LifeProof case for your Iphone 5 - click here.