Meteo Tsunami event - Panama City Beach Florida
March 29, 2014


Normally you'd find the beach packed with college students here for Spring Break soaking up the sunshine, not this morning. There was intermittent rain all morning long so the beach was deserted. The Spring Breakers were on the condo balconies behind me as I photographed a routine squall line moving in from the west. No big deal so I thought. It just goes to show you nothing is routine all the time in the weather business.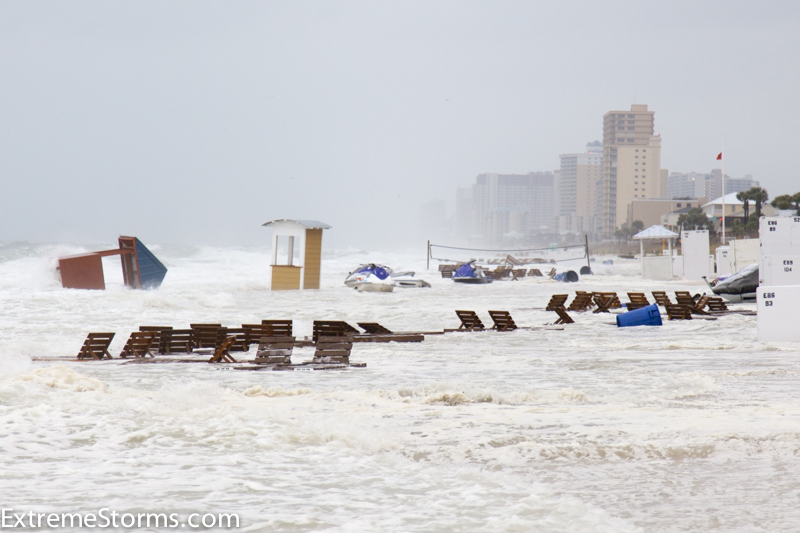 Meteo Tsunami Event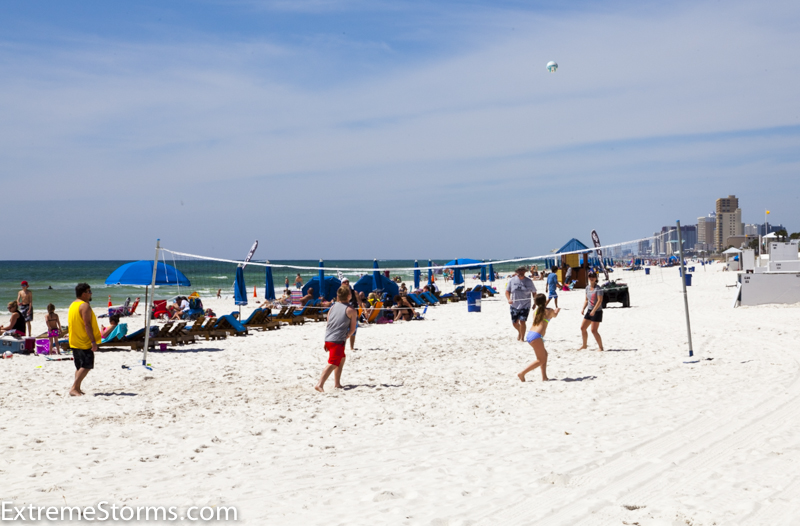 Typical beach day

I was watching a well defined squall line approaching Panama City Beach from the west on Radarscope. I was coming in from the east and thought there might be some nice photo opportunities on the beach. So I tucked my still camera in my rain jacket and found a public beach access with a good view. In the distance I could see the dark line getting closer - so at least I had some dry weather to fire off a few shots before the rain hit. The surf was only about 2-3 feet - not even worth surfing if you ask me. The surf stayed behind the slope of the shoreline. No cause for alarm yet.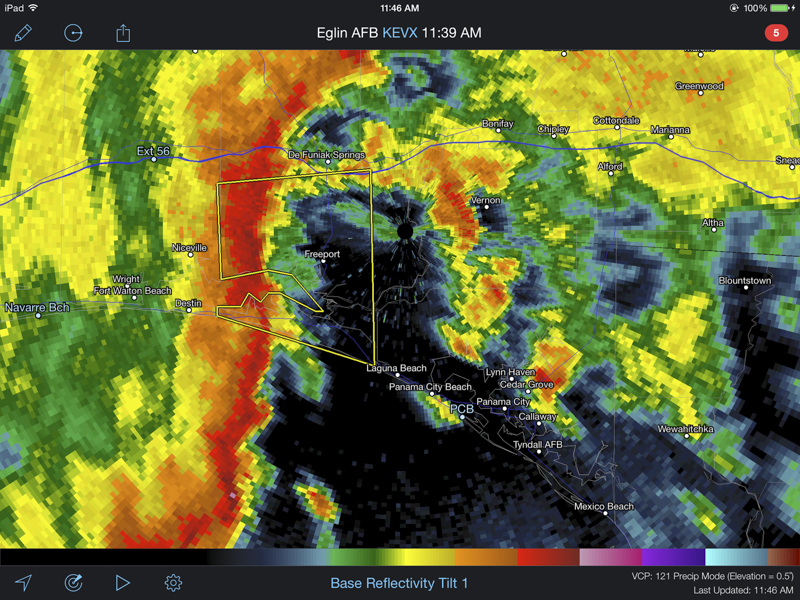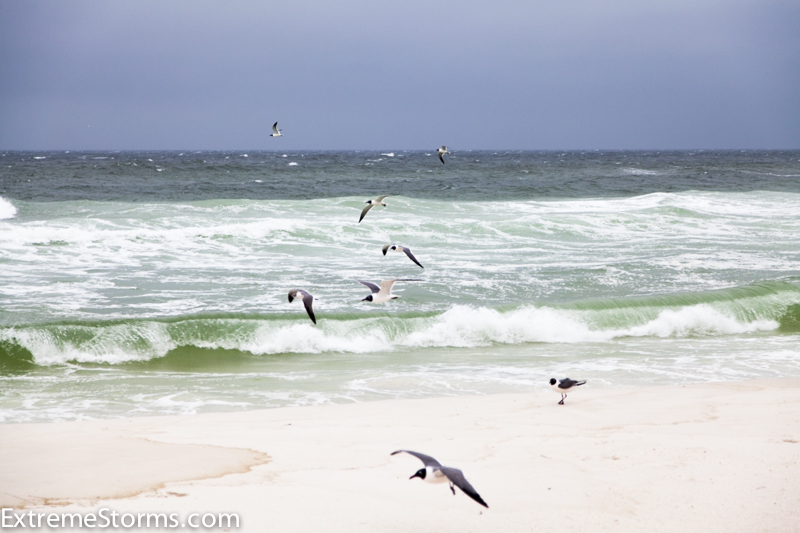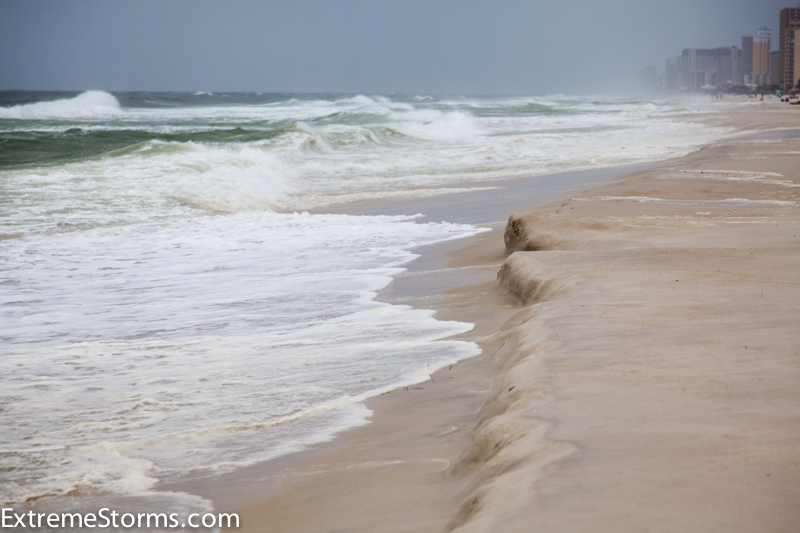 Around 12:25pm right on the edge of the rain the situation changed drastically. The waves started to crust over the shoreline "barrier" above and moved up the beach a bit. I was backing up firing as I went trying to hold the camera steady and level. In the span of 28 seconds, I went from the edge of the water to full reverse all the way to the sea oats on high ground. I glanced over at the adjacent condo and saw the storm surge pick up the deck chairs, jet skies, even the rental booths, and pile them up inland. Well that was unexpected. The college students, who were checking out the storm from the condo balconies, were just howling - well, they do that anyway but it was too early to start drinking.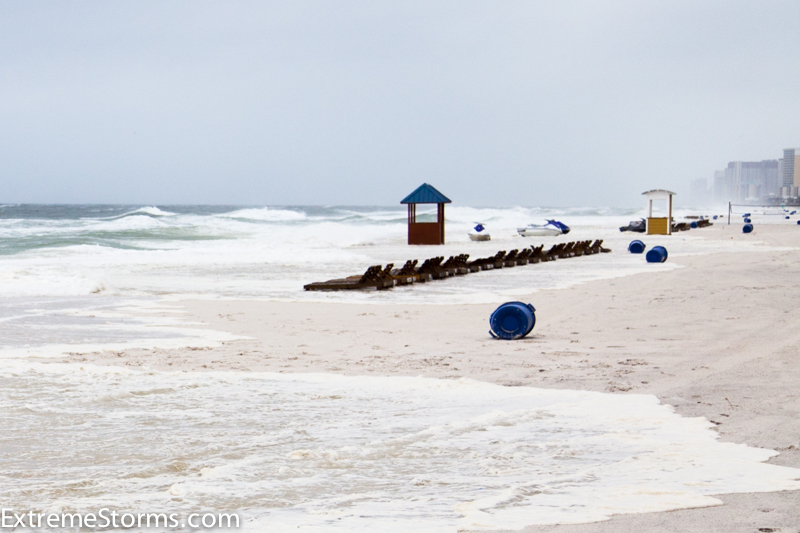 Surge starts to move up the beach



The surge hits the deck chairs and the jet ski rentals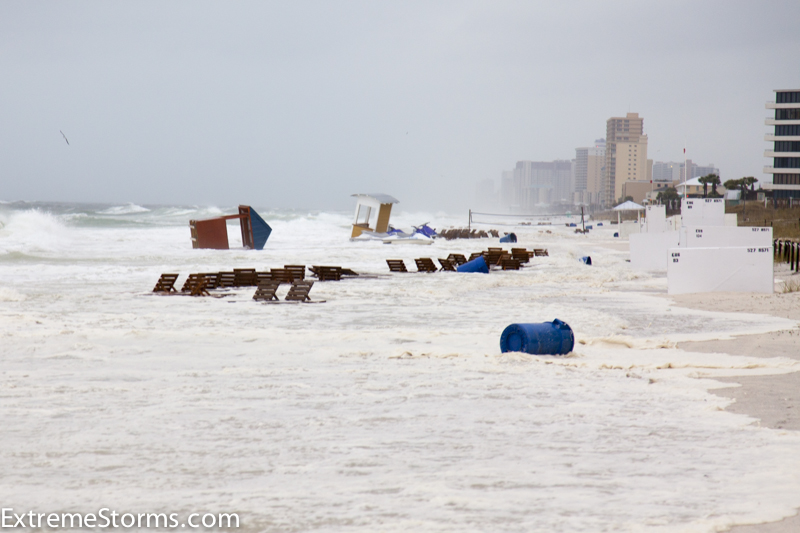 The wave continues inland

So what is up with this freaky storm surge? I've never seen this type of event before with a squall line. Well, let's look at some data from NOAA recorded about this time. Four miles to the northwest at the pier was a tide gauge. At 12:18 it measured a sudden peak of 3.75 feet in a span of 5 minutes. Photo courtesy: @NWSTallahassee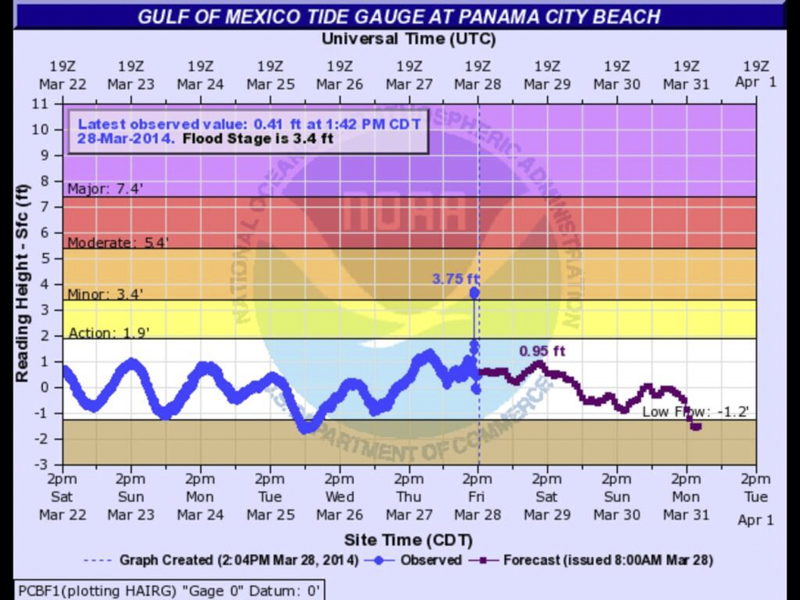 And check out this NOAA graphic posted on twitter by @twcMarkElliot. Notice the dip in air pressure of about 4 millibars as the squall line moved though the area.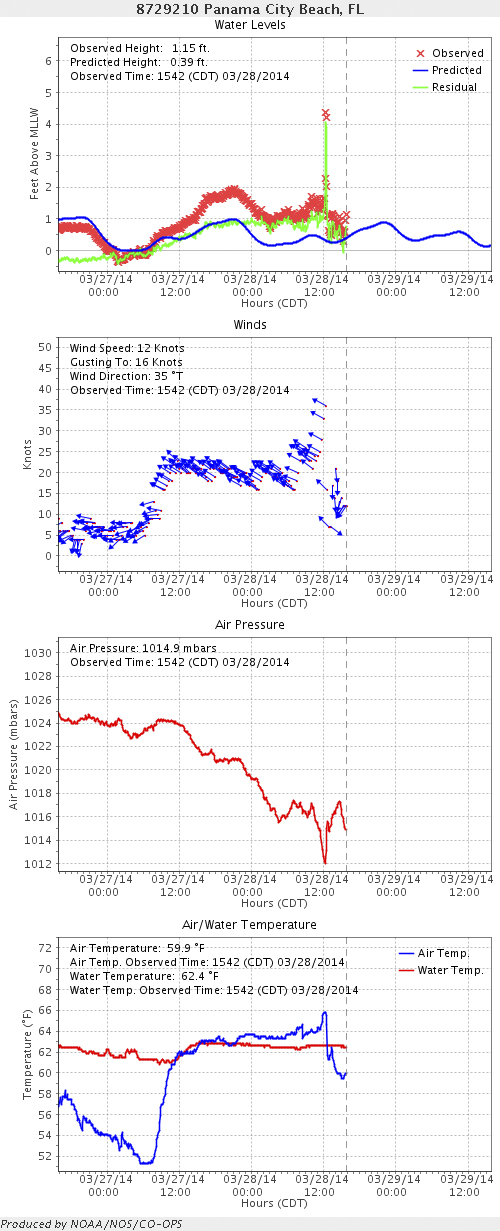 So what does all this mean? The Weather Channel's Mark Elliot used the term "Meteo Tsunami" on air. I had to look this one up on Wikipedia. "a tsunami-like wave phenomenon of meteorological origin . . . These tsunami-like ocean waves are principally caused by traveling air pressure disturbances, including those associated with atmospheric gravity waves, roll clouds, pressure jumps, frontal passages, and squalls, which normally generate barotropic ocean waves in the open ocean and amplify them near the coast through specific resonance mechanisms". A meteo tsunami is caused by weather not by earthquakes like we saw in Japan in 2011.

As the day wore on more and more people posted photos and even iPhone video of the event. One family (3.5 miles from my location and 0.5 miles from the pier tide gauge) was actually caught in it and posted iPhone video on YouTube. Fortunately no one was hurt.

The event reminded me of hurricane storm surge. I remember one time on the beach in Nags Head, NC looking out over the rough seas stirred up by Hurricane Isabel in 2003. The pressure was rising, the wind coming down - Isabel was not even a hurricane anymore at this point. I took a good look at the ocean and thought the worst was over. I turned around to film the damaged beach homes when a wave completely engulfed me. I didn't see it coming - it was a "low rider" as I call them. Not very tall but lots of water behind it that pushes well inland - that's why you don't see it coming. Fascinating to see a meteo tsunami yesterday and even better to catch it with my camera. Here is a YouTube photo montage: