Lifeproof IPhone case dunk test
By
Jim Edds - ExtremeStorms.com
Rarely does an Iphone case come along that I get excited about. I found out about the Lifeproof IPhone case from a waitress at my local sushi restaurant. Yeah, can you believe that? How did this one slip by me? There are a zillion iphone cases out there but how many are waterproof? No, I don't just mean splash resistant but bona fide dunk it in the water and shoot parrot fish on the reef water proof !!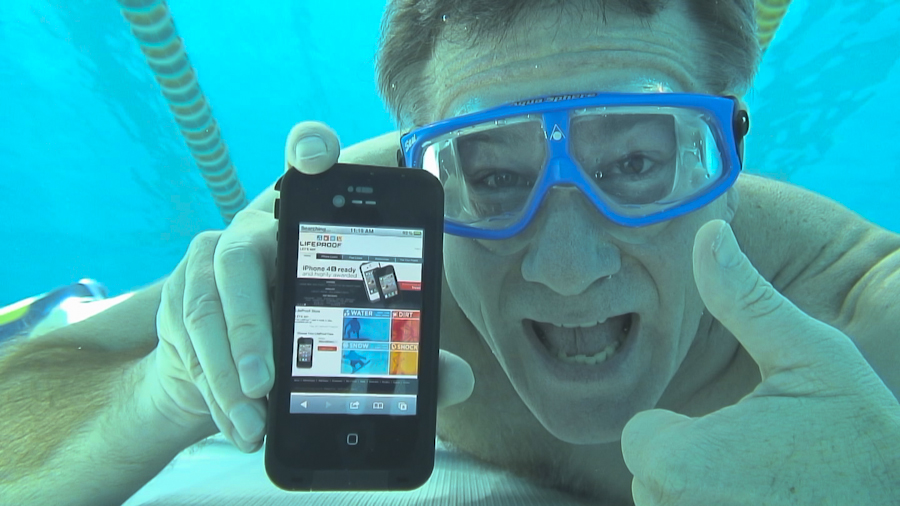 I've gone through numerous Iphone cases but none of them kept my Iphone 4 dry. In my line a work, you need to keep the electronics dry or there's trouble. Even the ones that offered drop protection were bulky and the touch screen was not sensitive enough for my liking. So, I took a real leap of faith when I put my $700 "unlocked at the factory no contract" Iphone 4 in the Lifeproof case and put in some bottom time at Pensacola State College pool. What? You think the photo is fake? Ok, here is another one: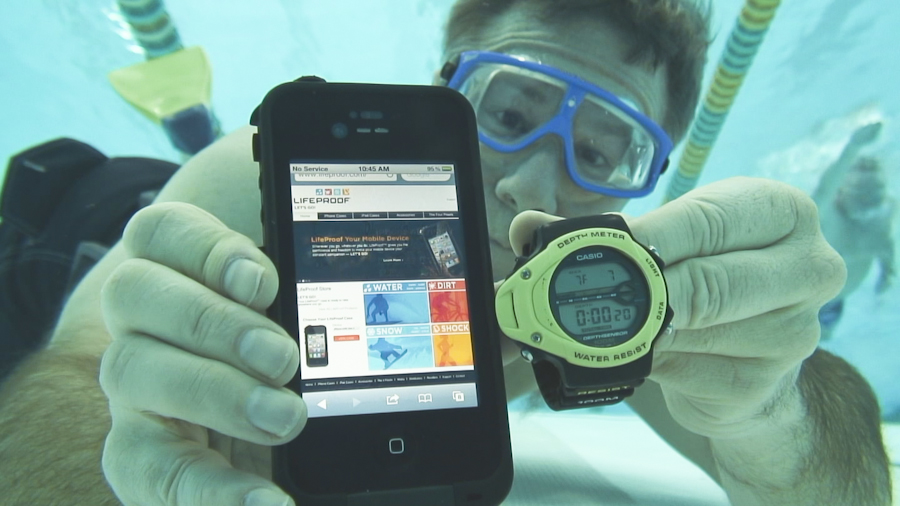 My freediving watch shows 7 feet for 20 seconds and you can see the guy swimming laps to the right of frame - yeah that's definitely undewater! I pulled up the LifeProof homepage before my descent into the abyss. After about 10 seconds the wireless signal disappears (but quickly reacquires after I surfaced). Darn, I was hoping to order a pizza for lunch! Ah, now the best part - shooting underwater video! I can remember back in the day my underwater camera cost thousands and the underwater housing even more. The IPhone 4s with this LifeProof case shoots better video than my old pro rig. I was born too soon!

Now here is where it gets good: You can take that awesome Iphone 4 video and hook it up directly to your Ipad and edit it with IMovie. You didn't know that little secret did you? No worries, I've got a easy to understand tutorial right here: IMovie Tutorial
According to the specs the case is rated to 6.6 feet (2 meters) - oops I went too deep - busted. The case comes in two sections - the front and back snap into place around an o-ring seal. It was easy to put together, just make sure you snap it shut along the entire seam. A small adapter is supplied so you can use your waterproof headset. For you competitive swimmers now you can swim laps jamming to rock & roll "drowning" out the coach yelling "No Pain No Strain No Gain!"
What I really like about the LifeProof case is it's cut nice and tight around the iphone. All the control buttons for volume , home key, on/off switch feel solid and responsive. I normally don't like anything over the touch screen - even screen protectors because it's just not the same feel - but this one is sensitive enough to my liking. What about audio? To my hears it sounds as if the case wasn't even on.

Whoever designed the case knew what they were doing because they used glass to cover the camera port. Glass always has better optics over plastic. A little latch flips out at the bottom to charge your phone. You need to use your original charge cord so that it fits in the slot for charging. One tip I have is to make sure you grab the base of the plug and not the cable when you pull out the charge cord.

If you want to go bluetooth then I'd recommend the Blue Parrot Road Warrior B250XT - a trucker favorite. It's the only bluetooth device I've used that works well. No more untangling headset earphones when the phone rings for me!

And here's another reason to get the LifeProof case - it's toilet proof (sure that never happens).

So that's my splash test of the LifeProof Iphone 4 case - whew, I need to come up for air !
Back to ExtremeStorms.com